Chicago's inner-city summer send-off is returning to Union Park for its 8th consecutive year. North Coast Music Festival has been a staple in Chicago's bourgeoning festival scene because of how it combines urban ambience with an absolutely stacked collection of artistic and musical talent. Miguel, Snails, Juice Wrld, DJ Snake, The Revivalists, Gramatik and Yellow Claw are only some of insane artists igniting the stages this year. In addition, NCMF was able to land one of the most sought after acts of 2018 as Jamiroquai makes their return to the Midwest after over a decade.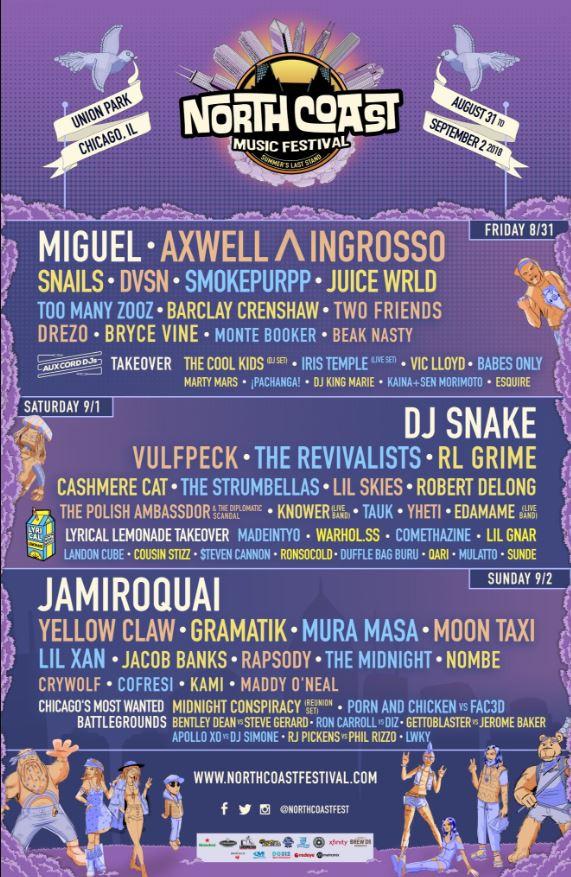 Accompanying one of more eclectic lineups out this summer at NCMF will be an array of art sculptures, live art installations and scrumptious food trucks. Roam the grounds long enough and one could discover talented graffiti painters in the act and uncover locally made merchandise. All this Chicago flair will all be contained within Union Park's compact perimeter making it easy to admire the outstanding production held at each stage all weekend.
Experience 'Summer's Last Stand' for only $150 for a 3day GA ticket and single day passes running between $50-60 dollars. For those looking to get more out of their festival experience can find sanctity in NCMF's VIP option. Air-conditioned restrooms, expanded bar options that include hard alcohol and mixed drinks, free bottled water and a number of other useful amenities are all included with a VIP purchase of $209 for 3day and a range of $70-90 dollars for single days.
NCMF has built a notable reputation for itself since its inception in 2010. By constantly bringing mixed lineups that include Hip-Hop, Rock and Electronic, NCMF has been able to reach a wide demographic that has made the festival a highlight every year. Enjoy Labor Day weekend in the park with your Coastie Crew!
Website : www.northcoastfestival.com
Facebook : Facebook URL (www.facebook.com/northcoastfest)
Twitter : Twitter URL (twitter.com/northcoastfest)