Vancouver's Andromo and musical mastermind Chris Fortier are back with their next EP, titled 'Gradient Skies,' which is set to release on Andromo's label Rainforest Music on July 12th. The EP features 2 tracks 'Gradient Skies' and 'Let Me Go', along with three different versions of 'Let Me Go.' Listeners can indulge in the original, instrumental version or its remix by Pattern Drama and Jon Lee. There is truly a special synergy between Andromo and Chris Fortier, in which their musical collaborations, seem to result in deep sultry house vibes. We had the chance to chat with Andromo and Chris Fortier about the growth of their individual sounds as well as the process behind creating 'Gradient Skies'. Here's what the two had to say!
'Gradient Skies' Pre-Sale Link: Here
You both have been producing incredible music for around two decades! Currently, are you pleased with what your sounds have evolved into?
Andromo - I'm really happy with the evolution of our sound. We both have very similar tastes and studio set ups. Even though we are cities apart, we keep a communication close and push each other to stay on track with what we have on the pipeline. We have a few more tracks unreleased, so expect more music to come in the upcoming months.
Chris - Yes, I am really stoked on what we have been creating. It has been a few years now and has been going from strength to strength with each release. I feel like we are just starting to hit our stride. We gel together so well and always come up with intuitive ideas together.
Your EP ' Gradient Skies,' showcases both your skills as the tracks are not only rhythmically complex, but also manages to echo the listeners into a groovy trance. How did you both contribute to these tracks, was there a method to this collaboration?
Andromo - It's hard to remember the process to every track we made, but it all comes from trial and error. Sometimes I write the melody, or sometimes the beat and Chris works on the opposite. I like to focus a lot on the mix downs and Chris focuses a lot on the sequence and arrangement. After I put some work, I let the project rest until Chris has made substantial improvements or changes, which he bounces back to me. Some tracks we leave them in the ice box for a few weeks or months so we can hear them again with fresh ears and fine tune anything we don't like. Its like playing online, lol!
Chris - There is not any strict rule or process. The ideas can come from anywhere. I am always sketching out ideas and grooves into demos and sending them to Andromo. Ideas that he grabs onto, he starts to flush out and then it is a back and forth between us each day until we get it right where we want.
'Gradient Skies' also features a remix of the track 'Let Me Go' by Pattern Drama and Jon Lee, which adds a funky and groovy vibe to this EP. Why did you pick those two artists and was this your initial desired atmosphere for the remix?
Andromo - Jon Lee is an outstanding Seattle DJ/Producer and Pattern Drama is an amazing Brooklyn DJ/Producer, put them together, and bing,bang,boom! They both have been playing the circuit for quite some years now and their last release together was on Desert Hearts. It's an absolute honour to have them do a remix for us and hopefully in the near future, they'll release some of their original music.
Chris - Rainforest is born out of friends working together and collaboration of a mutual sound. Andromo and Jon have been connected through productions and gigs for the last couple years and it was a natural choice to build on that. The bonus for sure was meeting the minds of Jon and Pattern Drama, whom we are fans of as well.
"My music collaboration with Andromo continues to be very fruitful with two new tracks here. I'm loving the vibes we're creating and to see our ideas come to life on the dance floor. Our new release, 'Let It Go' is rocking along with a super remix from Jon Lee & Pattern Drama." - Chris Fortier

'Gradient Skies' Pre-Sale Link: Here
A FEW WORDS WITH ANDROMO:
Coming from Vancouver, a place filled with lush greenery and incredible nature, do you feel like these landscapes have helped you craft your tropical yet minimal techno?
I consider myself sensitive to my surroundings. The lush greenery, the mountains and the ocean are the perfect backdrop to capture amazing moments that I later turn into musical ideas. Being in an amazing city has elevated my production skills. Also, being outside of my comfort zone and having more time for myself allows me to focus on perfecting my craft.
Andromo, as the creator and director of Rainforest Music, has your approach to finding and recruiting artists for your collective changed?
Hmmm I would say evolved. We as humans are constantly evolving; what works for you today might not work for you tomorrow. As for recruiting artists, anyone that I meet and inspire me will be under my radar, and if their music transports me to a hidden Rainforest jungle, then we have a match. I will always try to support those who believe in community and those who have clear goals. As a record label owner I want an artist to work hard, not just expect the label to do all the work. I believe both parties should aim to push and help each other out.
Follow Andromo:
Facebook | Instagram | SoundCloud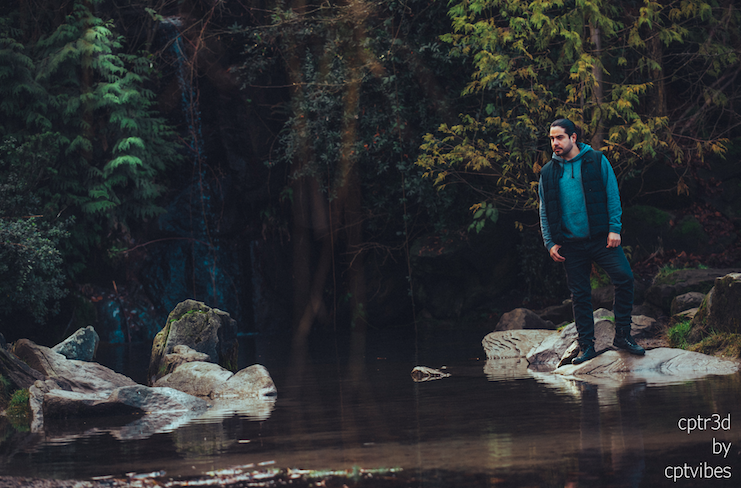 A FEW WORDS WITH CHRIS FORTIER:
Chris, you are an international producer, with experience performing in Tokyo, Melbourne, Budapest, Mexico and numerous other dance-floor capitals. Do you feel like your travels have molded your sound over the years?
I think life experience in general provides most inspiration. My sound has been built on seeking out new sounds, new movements and new artists from any corner of the globe. I have tried hard to be true to my own instincts and passions regardless of whether it was on trend or not. The one great thing that has been afforded to me with my travels is meeting new artists and then being able to provide them opportunities because of this platform. This is exactly how I connected with Andromo and now we have something quite special going.
Your discography is truly impressive, with collaboration with renowned producers Delirium, John Digweed, and many more, where together you create fire mixes. Currently, is there any artist in particular you would love to collaborate with soon?
I actually do not have a wish list of artists to collaborate with. I have had many long friendships from this industry that will last beyond music. I think currently I am more open to collaborating with artists than I have ever been in my career. I have been working with other up-and-coming artists as well, just trying to keep searching for that spark. Right now, Andromo and I have a very strong bond and the music forthcoming from us will continue to show this.
Follow Chris Fortier:
Facebook | Instagram | SoundCloud