Dirtybird just announced that house and techno superstars GET REAL, Walker & Royce, Destructo, BOT, Louisahhh and drum n' bass legends Ivy Lab, LTJ Buken featuring Armanni Reign will also be joining the already star-studded lineup this February 2nd - 4th in St. Cloud, Florida. Techno genius Seth Troxler, electro-jazz innovator Persian Empire, Future Classic duo Biyo, plus Dirtybird rising talents Sébastion V, Dateless and Vangelis Kostoxenakis will also be joining in on the fun. With such an insane lineup as well as being fresh from the hype from their success in the most recent Dirtybird Campout in California, East Coast Campout is looking to be an extravagant treat!
Check out the full lineup:
Here is the full Dirtybird East Coast lineup with more acts TBA in January.
Dirtybird Campout East - Phase 1 + 2 Lineup (ABC)
&Me
Abi Getto*
Adam Port
Ardalan
Billy Kenny
Biyo*
Biz Markie
Bot*
Bruno Furlan
Christian Martin
Ciszak
Claptone
Claude VonStroke
Craze
Danny Kolk*
Dateless*
Deron Delgado*
Destructo*
DJ Glen
DJ Tennis
Elevator Musik*
Eprom
Fisher
George Fitzgerald
Get Real*
Green Velvet*
Hector Romero*
Ivy Lab*
J.Phlip
Just Blaze*
Justin Jay
Lee K*
Louisahhh*
LTJ Bukem feat MC Armanni*
Madam X
Marshall Jefferson
Maximono
Mija
MK
Nick Monaco
Pearson Sound
Persian Empire*
PillowTalk
Prok & Fitch
Rampa
Roni Size
Ryan Forever*
Ryan Hemsworth
Sage Armstrong
Salva
Sébastien V*
Seth Troxler*
Soul Clap
Stööki Sound
Sven Lochenhoer
Tiga
Vangelis Kostoxenakis*
Walker & Royce*
Will Clarke
Wolf+Lamb
Worthy
ZDS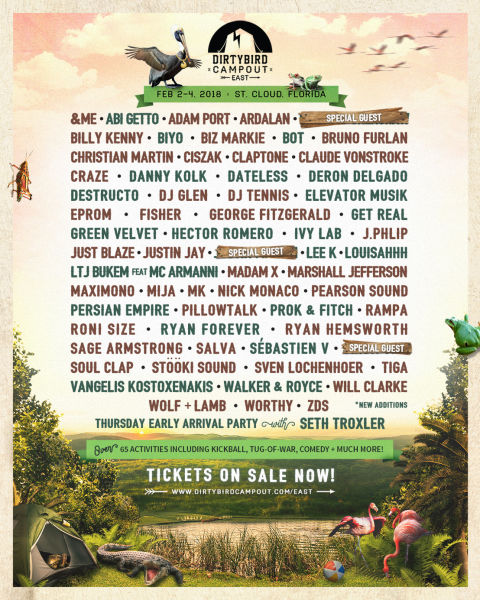 You can find more info + tickets
http://east.dirtybirdcampout.com/