Alas, the time has finally come...the first ever Dirtybird Campout EAST is upon us. This Thursday, loyal Dirtybird Campout attendees (Campers) will begin embarking on the festival grounds in St. Cloud, Florida, just outside of Orlando. Greeting them will be an arsenal of artists (Counselors) stemming from a wide variety of electronic music labels, many of them under, you guessed it, Dirtybird Records.
To name names, the Dirtybird Campout East lineup includes Claude VonStroke, Justin Martin, Green Velvet, Will Clarke, Ardalan, Christian Martin, &Me, Mija, Ryan Hemsworth, GET REAL, Justin Jay, Shiba San, Billy Kenny, Claptone, Walker & Royce, Golf Clap, Barclay Crenshaw, Seth Troxler and many more. Performances will conveniently commence on two stages; the Bass Lodge and the ever-so-infamous stage setup known as The Birdhouse.
A new addition to the Dirtybird Campout saga are Music Showcases. Groups of artists (marked in different colors on the schedule, mind you) will perform in clusters through the weekend. Music showcases include La La Land (Green Velvet n Friends), This Ain't Bristol (Billy Kenny n Friends), Keinemusik (&Me n Friends)(B2B), Brazil Team (Bruno Furlan n Friends) and Crew Love (Soul Clap n Friends).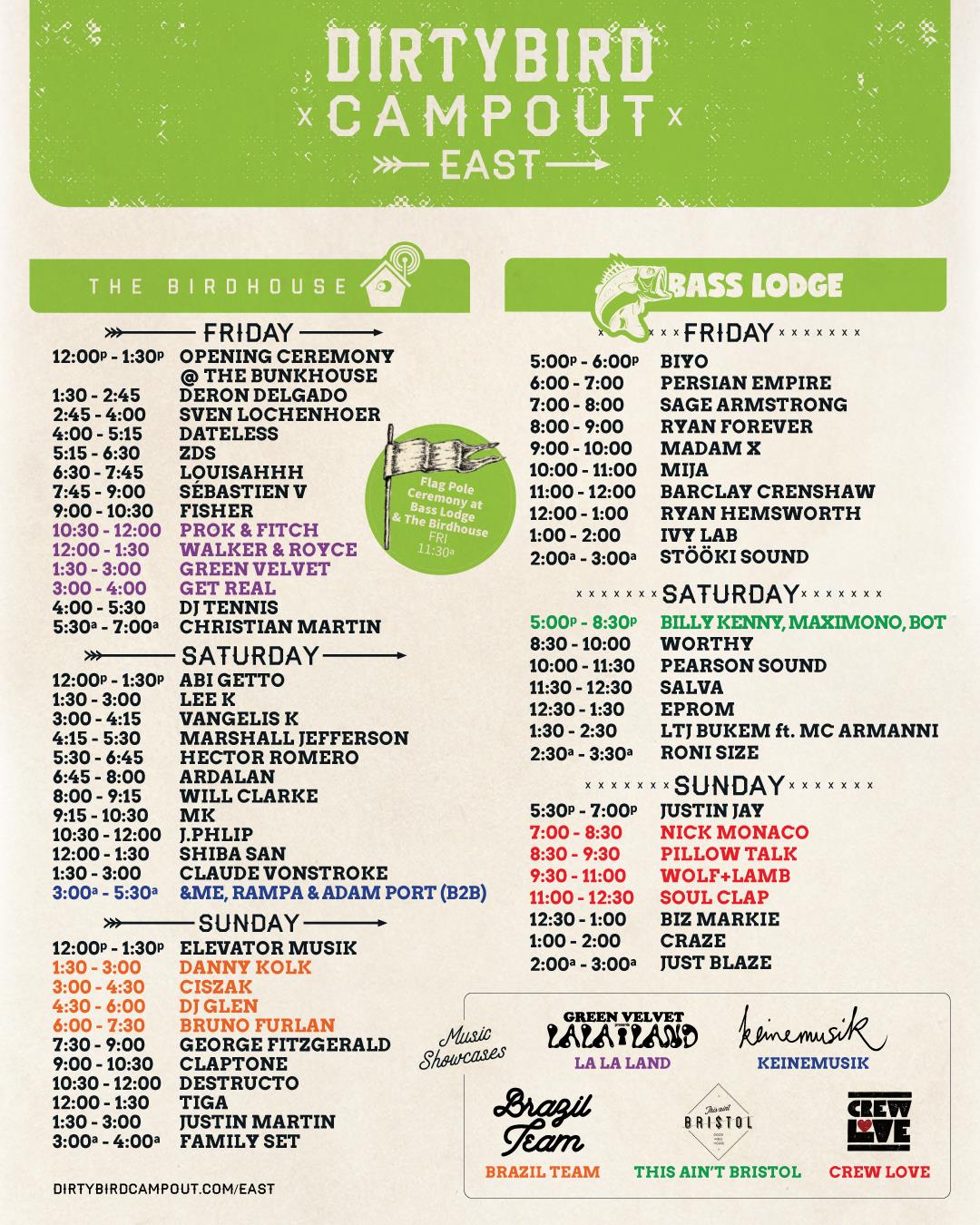 As always, Campers and Counselors alike will take part in wholesome campground activities the whole weekend long. Well, maybe not wholesome, but they are certain to be lots of fun. Activities like Alligator Wrestling, Double Dutch, Comedy Night, the Hyphy Hula Hoop Championship, plus Ziplines and Nature Tours are just some of the many things patrons can look forward to enthralling themselves in while on-site.
If you can't make it to Dirtybird Campout East, our friends at UG Strategies and Uphoric TV gave us the plug. I'm happy to share that there will be a Dirtybird Campout East LIVE STREAM! I realize it won't compare to being there in person, but it really is the next best thing.
For those of you that can make it, make sure you VISIT THE THRIFT STORE and pickup Boy/Girl/Cubscout attire! There's also a list of extras you can still acquire to make your Dirtybird Campout experience more memorable. From upgrades like backstage access, car camping passes and the Thursday pre-party (held by Seth Troxler n Friends), everything including Dirtybird Campout tickets can be found by clicking the link below.
Get ready to earn those Dirtybird badges, Campers! Flag us down and will be happy to document your achievements with a photo!